Product Description
The Aquatica AE-M1 housing for the Olympus OM-D E-M1 camera
Aquatica Digital is pleased to announce the release of their AE-M1 housing, the latest in its fine line of precision crafted aluminum housings. This housing incorporates all of the great features of Aquatica's current DSLR line of housings, but in a much smaller and compact size. Aquatica's designers and engineers have taken full advantage of 5-Axis machines and have come up with what they feel is the best engineered and best looking aluminum housing on the market, and with its long tradition of making underwater housings, it also has a depth rating of 90 meters.
The Micro 4/3 Series of housings was created with the uncompromising travelling photographers in mind. The AE-M1 housing being the flagship, weight, size and optimum performance were on top on the agenda. The end result is a state of the art housing series from one of the most experienced and longest established manufacturer in the industry.
The Olympus OM-D E-M1 level of performance is well known and appreciated, and its Aquatica housing is ergonomically tailored to take advantage of its compact size. All controls are positioned for quick and easy access and have been designed to take full advantage of the quality lenses available for this format.
About the Camera
The new OM-D E-M1 interchangeable lens camera, the flagship of Olympus Micro Four Thirds series of camera, has a 16.3-megapixel Live MOS sensor with on-chip phase detection, this translate in much faster autofocus speeds than previous Olympus m4/3 cameras. The camera is also loaded with an impressive number of customizable features are provided.
The E-M1's now sports an advanced, built-in Interactive Electronic Viewfinder featuring a magnification factor that rivals full-frame DSLR cameras. It has an extremely high-resolution 2.36 million-dot LCD panel that provides a large, clear image that is on a par with optical viewfinders. The E-M1 now expands the dustproof and splash proof capabilities with freeze proof capabilities with a guaranteed operation down to 14 ºF
The new TruePic VII image processor reduces noise and color fading at high ISOs for improved image reproduction. New Fine Detail Processing II technology configures the appropriate sharpness processing for each individual lens for natural, high-quality resolution, as well as reducing compression artifacts when recording movies. This technology is assisted with the Most Effective 5-Axis Image Stabilization System available today.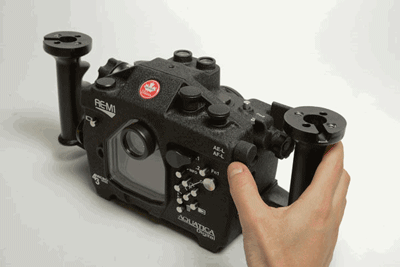 About the AE-M1 housing
As it is for the camera itself, the AE-M1 housing has all frequently accessed buttons logically laid out for quick and easy access. Also to keep coherent with the small is better philosophy and, travelling restrictions having severely affected the amount and weight of camera equipment one can travel with, we can safely say that yes, size and weight do matter nowadays. Built with this train of thought, the Aquatica AE-M1 housing is designed compact, made of lightweight aluminum, yet still benefit from the same quality process that has made Aquatica housings legendary. Precision, ruggedness, reliability and ease of maintenance are all incorporated in its development.
The shell is made of marine grade aluminum, treated to a military specification anodizing process, it is then has a baked on layer of powder coated paint for a tough as nail finish that will gives years or reliable service, no matter the condition encountered.
Shafts and push buttons are all made from top grade stainless steel and all is hand assembled as a fluid and precise instrument should be.
Housings Built with Quality
This new Aquatica housing, like all housings manufactured by Aquatica, is milled from a solid block of 6061 T6 aircraft grade aluminum, it is black anodized and then for further protection, a resistant polyester electrostatic powder coat paint is added. This ensures that your investment will last a lifetime. The AE-M1 housing takes advantage of the best and lightest grips in the industry. These form fitting grips are not only light weight but also very strong and will allow you to mount large strobes or video lights hassle free and without the need for any reinforced brackets.
View Finder Options
The AE-M1 housing comes with Aquatica's standard state-of-the-art Galileo optical viewfinder. Aquatica's engineers have made it very easy for the user to remove the back window allowing the use of the Aquaview or Aquaview 45 finder (with a separate adapter). Both of these view finders are recognized as the best in the industry.
Pressure ''CHECK'' Circuitry and Leak Alam: All-In-One
The AE-M1 will ship with Aquatica's new SURVEYOR moisture and atmospheric pressure sensor. This advanced Aquatica circuit has a temperature compensation included, so any change in ambient temperature or changes in the internal temperature will not cause an incorrect reading. The onboard start actuating button is for the vacuum only; your moisture alarm is always on. The AE-M1 housing will ship with a bulkhead opening for future and easy installation of the optional vacuum valves. You can also order your housing as a kit with these preinstalled.
This new Aquatica SURVEYOR moisture and vacuum sensor system is the most advanced on the market today:
Easy user installation
Intelligent use of LED technology
Onboard start actuation button
In one simple glance, the underwater photographer can be assured that the housing has water-tight integrity before, during and after the dive.
Lens Support
The AE-M1 housing will support all the popular lenses that the shooter would want to use underwater, this will include lenses from both Olympus and Panasonic, ranging from the Panasonic 8mm fisheye to the Olympus 60mm macro and many other lenses in between. The AE-M1 housing will also have available an extensive line up of ports, including a 100mm glass port, macro port and various extension ring options.
For further information of currently supported lenses, please check the lens chart.
A New Line of Ports
Also to keep coherent with the small is better philosophy, a new line of ports is being introduced along with Aquatica's well established 4'' BK-7 glass dome port which has been designed specifically for the Panasonic Lumix G Fisheye 8mm f/3.5
The SW8 Port is designed to cover Super Wide Angle lenses such as the Olympus M.Zuiko 9-18mm f/4-5.6 and Olympus M.Zuiko 12-40mm DIGITAL ED F2.8 PRO which lenses require a large dome port radius. Aquatica uses its legendary 8'' diameter dome port but with a twist, its new SW port uses the portion of the dome lens required to cover the field of view of these extreme lenses. The result is a dome port that is substantially smaller and lighter with no sacrifice whatsoever in its optical performance. This modular port extension system allows this SW8 Port to be optically optimized for a wide variety of lenses.
Dedicated ports for macro photography are also introduced, one for the Olympus M.Zuiko® 60mm F2.8 Digital ED Macro Lens and one for the Panasonic Leica® DG Macro-Elmarit 45mm F2.8 ASPH OIS.
Strobe Connections
The housing accepts the popular "off the shelves" optical sync cord with straight tip (as found on Inon strobes) and with angled plugs (as found on the Sea & Sea and Olympus Strobes). Optionally, the housing can be equipped with a Nikonos type bulkhead strobe connector. From this connection you can run two strobes with a dual sync cord.
Depth Rating:
Dimensions:
Height: 15.4 cm
Depth: 9.6 cm
Width: 18.2 cm (without grips), 28.7 cm (with grips)
Weight: TBA
Standard Features:
Quick removal camera tray
Ergonomically optimized for diving conditions
Oversized knurled controls knobs
Sturdy comfortable grips
Extended shutter release
Port lock mechanism
Lens release mechanism
Standard high quality Galileo optical Eye piece
Dual sacrificial anodes (front and rear mounted)
The camera housing price does not include ports or domes
Construction of Shell:
6061 T6 Marine Grade aluminum
Anodized to MILA-8625 (type 2,Class 2 specification)
Powder coated with certified A.A.M.A. 2603-98 Polyester coating
Baked at 177C (specification ASTM D2794)
Control Shafts and Pins:
Type 304 marine grade Stainless steel
All shaft double sealed with double O-rings
All push pins sealed with Quad Rings
Mounting points for strobes arms, lighting fixtures and/or tripod:
5 x ¼"-20 threaded holes on the top
3 x ¼"-20 threaded holes on the bottom