Scouting Trip to the Caves of Cartagena – Day 1
As an unofficial scouting trip of the video and photography subchapter H2O VIVA! of the dive club "Sukellusseura H2O ry", I travelled to Cartagena, Spain. This little known city was once the capital of Iberia and is an important harbor for the Spanish navy. There is an interesting museum of maritime archeology. You can also find the first electrically driven submarine here.
The longest cave in the area is "La Cueva del Agua". Sofar, this has been explored for a total of 2.5 kilometers. And the cave continues. 
For this trip, I brought with me four LED video lamps made by Northern Light Scuba, and, my favorite camera, a Canon 5D Mark III in an Aquatica housing. My preferred lense is the Canon L series 16-35mm/f2.8 zoom lense because I shoot mainly video. Initially I kept this lense at 20mm focal length, but, I soon zoomed to 16mm focal length. I used manual white balance and prefocusing for the entire dive.
The water in the cave is comfortably warm. At the surface it is 17 degrees and further inside the cave it reaches 29 degrees Celsius. A T-shirt and shorts was sufficient underwear for my drysuit. The cave is not very deep, max depth about 20 meters. The average depth during the first dive was 10.7 meters. This "warm up" dive lasted 90 minutes and I was able to shoot 72 minutes of video clips. Some of them quite good – I'll just need to set aside one or two weekends for editing the clips.
Apart from the ambient light shot, all pictures of this article are actually low res framegrabs of the Full HD video.
Many thanks to Rivemar, and especially to Sergi and Inma who acted as models and light assistants on this dive.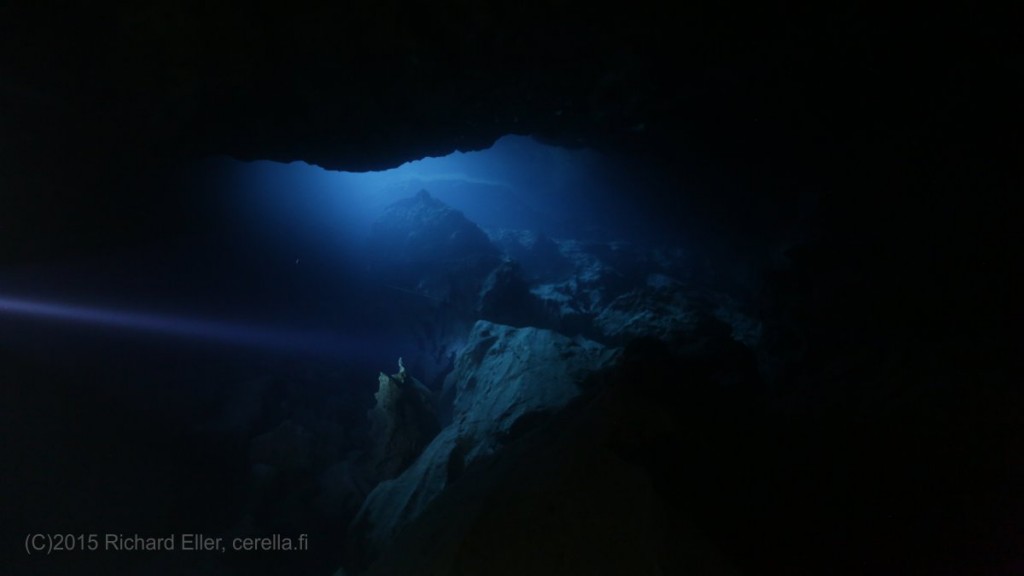 This post is also available in: Finnish