Further but not Deeper – Day Two
I am getting more acquainted with the cave La Cueva del Agua during my second day there. A nize and cozy 150 minute dive: we penetrate 90 minutes inwards and swim back in 60 minutes. Now we reached zone 3B. Due to a minor miscommunication, we took the turn to the right, eventhough there would have been an interesting stalactite gallery on the left side. Well, next time then (see Day 3).
This time we swam inwards a slightly different route. I actually missed a sight on this route. There would have been the left over tank and BC of a former open water diver who got lost in the cave. On the outside of the cave there are a couple RIP memorials with flowers.
The air-like transparency of the water had disappeared at places, but, still the visibility was mostly excellent.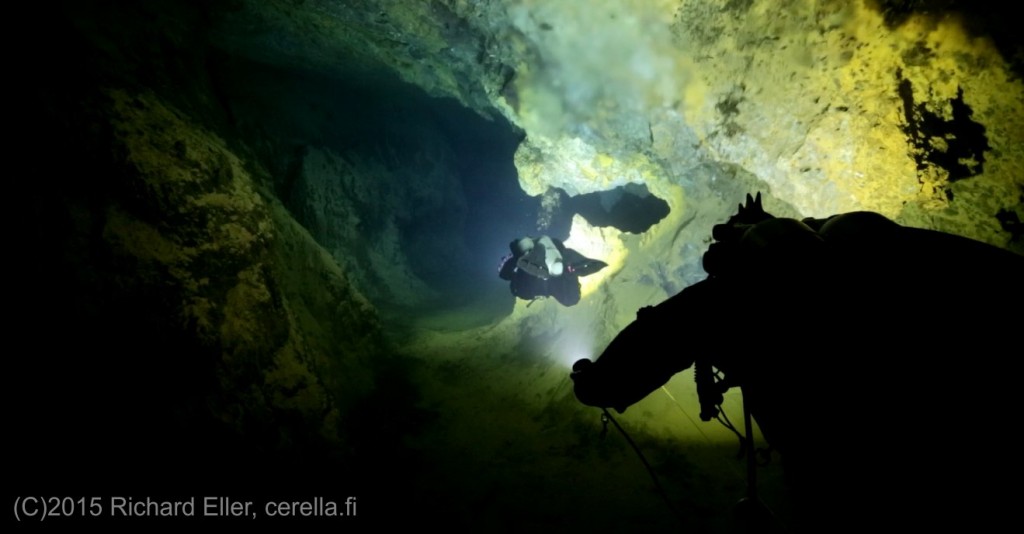 From my childhood, I remember having seen a colorful tourist postcard of an Italian cave. I always wondered why they had bothered to color different parts of the picture in orange, green and blue. Well, now (almost) half-a-century later I know the secret. Perhaps this explains my keen interest in cave diving.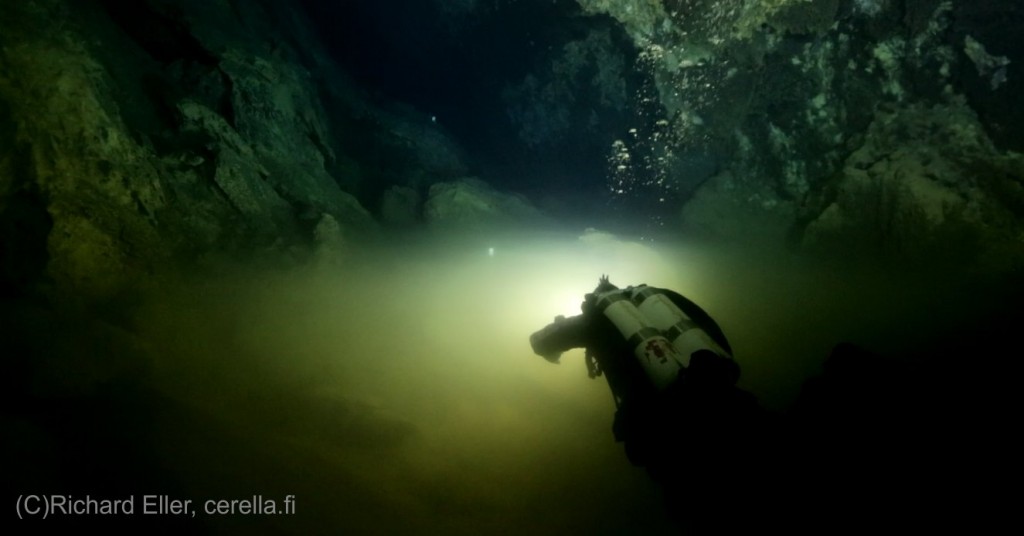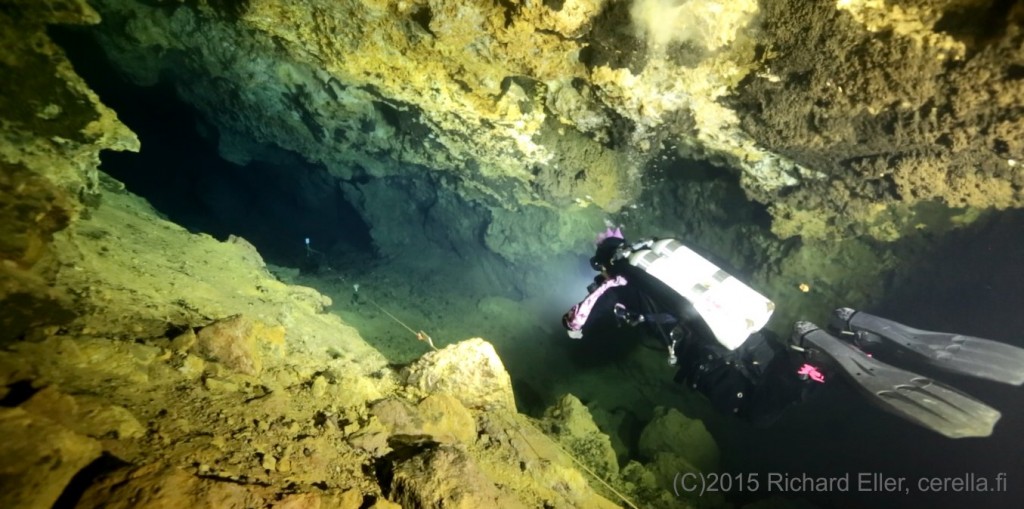 Haloclines were a nice spectacle during the dive. On the video, you can see how the haloclines and lights created a net-like lively shadow play on the walls of the cave. You have to see it to believe it.
There exists powder-like mud on the ceiling and various walls of the cave. At places, this powder forms fir-bush-like fragile extensions which most likely are held together electrostatically. A mere touch or your bubbles is enough to pulverize these formations. The time between the two pictures below is 17 seconds. And just couple of seconds later the scenery became pitch-black where you couldn't even see your own dive light.
Shooting video in the became a bit more challenging today. Eventhough we attempted to save batteries by turning the video lights not sooner than after penetrating the first 200 meters, the burn-time of the lamps did not last for the remainder of the diver. Well, next time we'll begin shooting at p=500 meters.
The frame-grab below shows the location where we turned around after the first video light extinguished.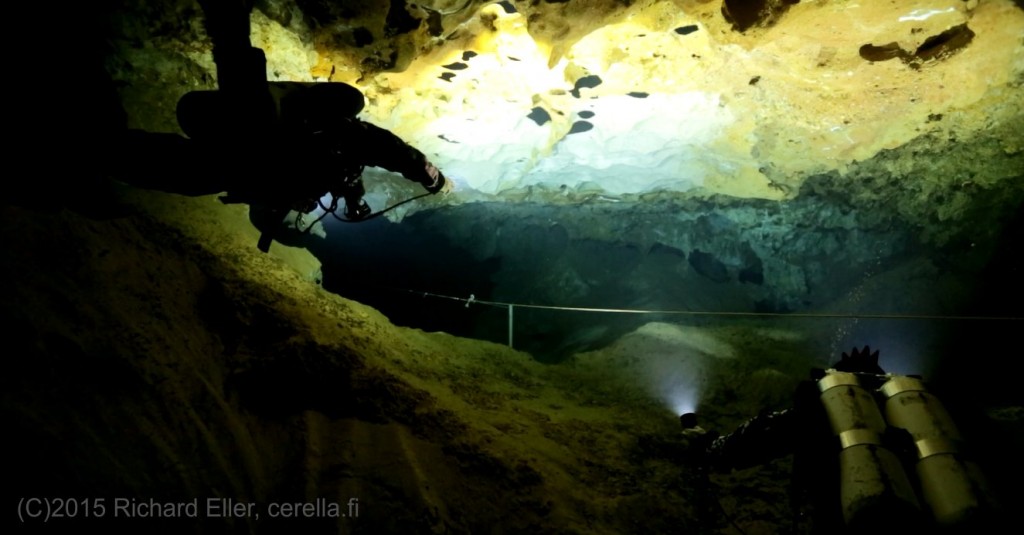 And gradually, the remaining video lights flicked off, one at a time. Anyhow, the battery of my Canon 5D III would not have lasted more than two hours. Still, I was fortunate enough to shoot 80 minutes of video footage during this dive.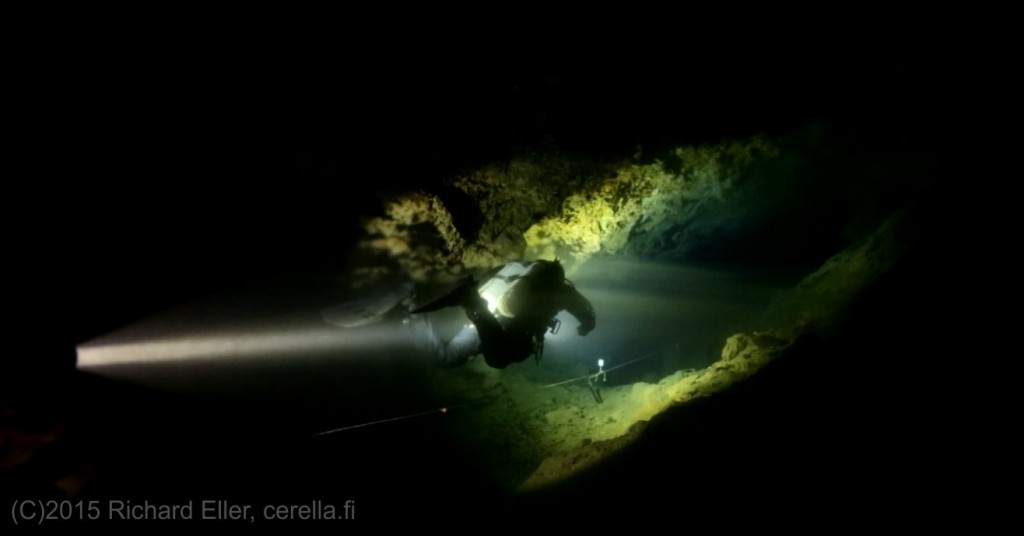 The tour continues on Friday.
Please find the previous day here, and, the next day here.
This post is also available in: Finnish