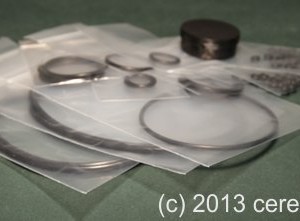 Aquatica 18838 / Rebuild O-Ring Kit for Aquatica Camera Housing for Nikon D7000
A Rebuilt kit contains all necessary O-rings for rebuilding your housing as well as two extra port O-rings and a container of O-ring lubricant. Replacing all the O-rings will require a complete disassembly of the housing and should only be attempted by qualified individuals. Instead of doing this yourself, you might consider asking Cerella Oy to do this maintenance on your behalf.
This kit is meant for a complete rehaul of the Aquatica AD7000 Nikon housing (#20068). The kit includes all O-rings that can be reasonably replaced (outside of factory).
The kit includes the following:
Main O-ring
O-rings for top, front and back ports
O-rings for view finder
O-rings for bulkhead connectors and plugs and optical type connector
O-rings for strobe connectors
O-rings for hydrophone
O-rings for push buttons and 1/4″ shafts and A/FL
O-ring lubricant
For a complete rehaul you might want to consider the following additional products:
A19217 Deep rated sping kit. This includes also vinyl tips, O-rings for shafts and C clips
A19220 Sacrificial Anodes
A19222 Clips assortment
A19223 Assorted vinyl tips for buttons
According to the manufacturer´s user and maintenance instructions, a pressure test or immersion into water without the camera inside is mandatory after changing any O-ring. Failure to perform this test could result in serious damage to your camera and lens should the O-ring be improperly installed.
In stock