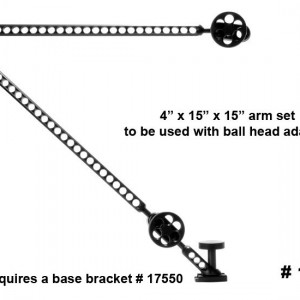 TLC 17513 / 4'' Lower, 15'' Middle, 15'' Double Ball and 3 Clamps
TLC arm set consisting of:
clamp
15'' middle section
clamp
15'' double ball
clamp
large knob to secure lower arm to housing
4'' lower arm (connecting to dove tail bracket on housing or handles)
Dove tail bracket not included. Select dove tail bracket 17550 for attaching to Aquatica housings. Select dove tail bracket 17552 with 5mm screws for attaching to Sea&Sea, Subal, Secam and other popular metric system housings.
N.B. Please remember to select a suitable ball head adapter for your strobes or video lamps. Ball head adapter is not included.
(Please inquire to check availability)