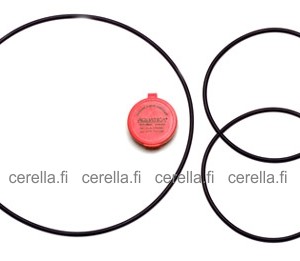 Aquatica 18823 / Maintenance O-Ring Kit for Aquatica Camera Housings for Nikon D3, D3s and D3x
Maintenance kits are recommended for travelling and general maintenance. Replacing the main and front port O-rings of the housing regularly is recommended.
This maintenance kit contains the following items for Aquatica housings:
One main O-ring for the camera housing
Two O-rings for front ports
O-ring lubricant
This maintenance kit is suitable for the following Aquatica housings:
Nikon D3
Nikon D3s
Nikon D3x
According to the manufacturer´s user and maintenance instructions, a pressure test or immersion into water without the camera inside is mandatory after changing any O-ring. Failure to perform this test could result in serious damage to your camera and lens should the O-ring be improperly installed.